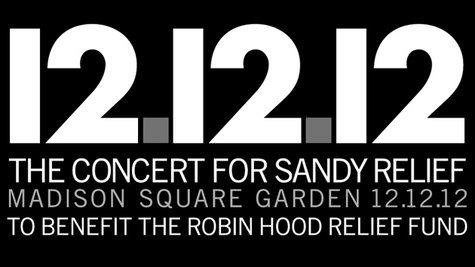 How would you like to watch the star-packed concert to raise money for the victims of Hurricane Sandy that's taking place next Wednesday at New York City's Madison Square Garden free of charge on the big screen? Producers of 12.12.12 -- The Concert for Sandy Relief have organized a free simulcast of the event that will take place in a variety of movie theaters in the states hardest hit by the superstorm -- New Jersey, New York and Connecticut.
Tickets for the screenings are available now at participating cinemas' box offices on a first-come, first-served basis. Visit 121212Concert.org to find out if there's a theater showing the event near you. The simulcast will begin at 7:30 p.m. ET and is expected to run until about 11:30 p.m.
The lineup for the 12.12.12 concert includes Paul McCartney , Eric Clapton , The Who , Bruce Springsteen & the E Street Band , Billy Joel , Roger Waters , Bon Jovi , Eddie Vedder , Dave Grohl and more. Proceeds from the show will go to the Robin Hood Relief Fund, which provides money, material and know-how to local organizations that are helping the victims of the hurricane in regions hardest hit by the storm.
In addition, the event will air live on a wide variety of TV stations around the world and also will stream on select websites.
Copyright 2012 ABC News Radio