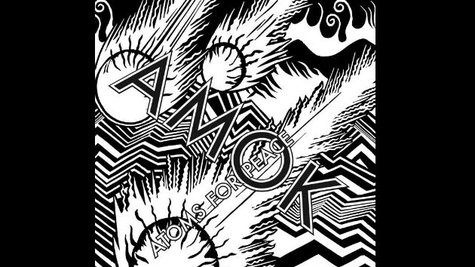 Atoms for Peace , the side project of Radiohead 's Thom Yorke and Flea of Red Hot Chili Peppers , has announced that their debut album, Amok , will arrive in stores on February 26.
In a statement provided to ABC News Radio, Yorke says that fans can expect some surprises from the band before the album arrives in stores. "It's a while to wait I know so I'm sure some other things will occur before then," writes Yorke. "I'm still reeling from being on tour for much of the year but we are planning to get together and play etc next year! We're figuring all that out right now. Atoms is a ongoing and open ended project, where it leads I know not for certain...which is what is nice about it."
In addition, the band has unveiled the artwork for Amok . The cover, which was created by longtime Radiohead collaborator Stanley Donwood , features a black-and-white drawing of flaming meteors falling from the sky into a raging sea. You can see it now on the band's official website .
Amok will be available via CD, digital download and vinyl album. Here is the track list:
"Before Your Very Eyes"
"Default"
"Ingenue"
"Dropped"
"Unless"
"Stuck Together Pieces"
"Judge Jury and Executioner"
"Reverse Running"
"Amok"
Copyright 2012 ABC News Radio