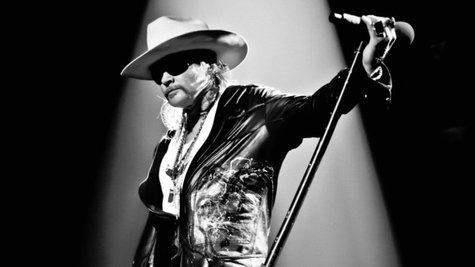 Later this week, Guns N' Roses kicks off their first-ever tour of India. Frontman Axl Rose says that he's excited to perform for the band's fans in Bangalore on December 7, in Mumbai on December 9 and in Gurgaon on December 12.
"I've always wanted to play in India," Rose tells The Times of India . "We've tried to make that happen but for whatever reasons it just didn't work out. It does seem like bands or the touring/concert industry is really trying to make an effort to include India in their tours, more so now than in the past, which I think is a good thing."
Rose adds he's hoping to have "a personal, first-hand understanding of spirituality and religion" during his trip to India. When asked if he believes in past life regression -- a technique that uses hypnosis to recover what practitioners believe are memories of past lives or incarnations -- the singer replied, "I do like to explore and consider lots of different concepts, ideologies, belief systems, religions etc, and have an understanding of what others feel, think or believe, but in my opinion, ultimately what one 'believes' is their own business."
Copyright 2012 ABC News Radio