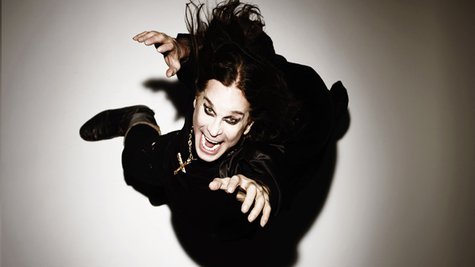 In an interview with The New Zealand Herald , Black Sabbath frontman Ozzy Osbourne is giving fans an update on his first record with his old band mates in more than 30 years. According to Ozzy, the process of working with Sabbath is going more smoothly, now that he and his band mates have mellowed with age.
"What's different now is that none of us get drunk or stoned or any of that stuff," the singer tells the Herald . "We're all clean, and all in control of ourselves, we're not intimidated by each other, there are no arguments, and it's the way it should be."
He said when the members of Sabbath were younger, their rock and roll lifestyle sometimes got in the way of the music. "When you're 21 and you get some success it takes a while to get your head around," he tells the paper. "You have an ego, you have the spoils of success, the cars, the houses, the money, the alcohol, the drugs, the groupies, and all the rest of it, and if you go through all of that and you are lucky enough to survive you get married, you get divorced, you get married again, and it's a journey."
Now, he says, the band mates are just focused on music. "We have come through the other side, we're still able to work together, and that's where the enjoyment comes from," he says.
One thing that hasn't been so pleasant during the album process has been guitarist Tony Iommi 's ongoing treatment for lymphoma, which, Osbourne says, "has been a bit rough on him but he still manages to come up with those great riffs."
Still, Osbourne remains a little nervous about how the new Sabbath material will be received by long-time fans. "I just hope the people who have waited all these years aren't disappointed," he frets.
Copyright 2012 ABC News Radio