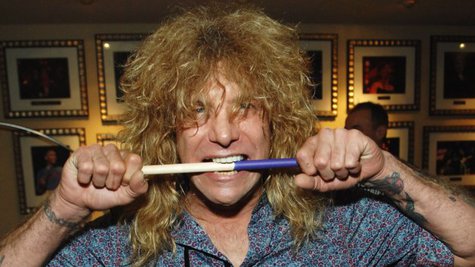 Former Guns N' Roses drummer Steven Adler has made peace with the fact that he will probably never perform with every member of the band's original lineup anytime in the future.
"I'm no longer angry and pining for a reunion," Adler tells Rolling Stone . "I'm not angry about it anymore. It's flushed out of my system."
The founding members of Guns N' Roses were almost reunited when they were inducted into the Rock and Roll Hall of Fame in April. However, Adler's dream of a musical reunion together was crushed when frontman Axl Rose and former guitarist Izzy Stradlin decided not to show up for the induction ceremony. After the event, Adler told Rolling Stone that he had "no desire to know [Rose] or work with him or do anything with him again," but has now had a change of heart.
"I'm not angry with Axl anymore," he admits. "I love him and I feel blessed that I got to work with him and achieve what I achieved with him. I guess time does heal all wounds."
The drummer will be hitting the road next year to promote Back from the Dead, the recently-released debut album from his new band, Adler . Fans who attend the upcoming shows can expect Adler to bust out a few classic GnR hits.
"Out of respect for the fans, we will probably do two Guns N' Roses songs," he reveals. "We'll probably do 'Sweet Child O'Mine' and 'Mr. Brownstone.' But beyond that it's all about this band, though in certain countries we're gonna have to play more than two."
Copyright 2012 ABC News Radio