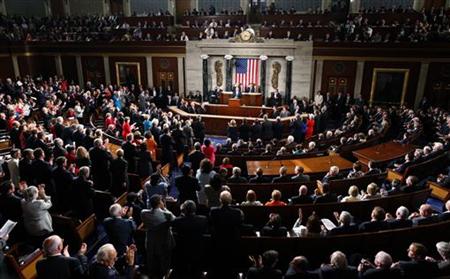 By Andy Sullivan and Thomas Ferraro
WASHINGTON (Reuters) - A sharply divided Congress careened toward another high-stakes budget battle on Thursday as lawmakers remained at odds over a bill that would help disaster victims and keep the government open.
Even in the face of rock-bottom approval ratings, the dispute suggested that Democrats and Republicans may not be able to bridge their differences to pass even the most essential legislation.
The House of Representatives and the Senate must replenish a disaster-relief fund that could run dry on Monday during one of the most extreme years for weather in U.S. history.
Lawmakers also must approve a stopgap spending bill to keep the government fully functioning beyond October 1 while lawmakers continue to debate a full budget.
Yet the Republican-led House rejected a bill that would do just that on Wednesday after Democrats and Tea Party-aligned Republicans voted against it, albeit for opposite reasons.
Republican leaders planned to try again on Thursday after tweaking the bill to zero out a loan for the bankrupt solar-panel firm Solyndra, which has drawn scrutiny for its ties to the Obama administration.
That could garner enough Republican support to pass the House. But Senate Democrats declared it dead on arrival.
"We are fed up with this," Assistant Senate Democratic Leader Dick Durbin told reporters. "The Republicans know what it takes for us to ... keep the government in business."
The top Republican in Congress said the dispute would not disrupt government operations. Congress has more than a week to resolve its differences, and every spending debate this year has gone down to the wire.
"There's no threat of a government shutdown. Let's just get this out there," House Speaker John Boehner said at a news conference.
Republican leaders have vowed to lower the temperature on Capitol Hill after fierce budget battles with Democrats pushed the U.S. government to the brink of a shutdown in April and the edge of default in August.
The months of turmoil on Capitol Hill have spooked consumers, rattled investors and led to a cut in the country's top-notch AAA credit rating.
"There is such a lack of belief that we can expect any kind of help to come out of our political leaders," said Mitch Stapley, chief fixed-income trader at Fifth Third Asset Management in Grand Rapids, Michigan.
The Republican bill would keep the government running through November 18 and provide $3.65 billion in relief to communities that have been ravaged by tornadoes, floods and other disasters this year. The extra relief would be partially offset by a $1.5 billion cut to a loan program for energy-efficient vehicle manufacturing.
DEMOCRATS SAY IT WOULD HURT JOB CREATION
Democrats want to double the amount of disaster aid and say that the loan cut would hurt a program that has supported 40,000 U.S. manufacturing jobs at a time when the country is struggling with an unemployment rate of 9.1 percent.
The elimination of the $100 million Solyndra loan would have little practical effect, as the company has already declared bankruptcy and the loan program is set to expire next week.
It remained to be seen whether that change would be enough to win over the 48 conservatives who voted against the bill on Wednesday on the grounds that it did not cut spending enough.
"We are getting there," a Republican aide said.
Republican leaders have struggled at times to rein in a conservative Tea Party faction that has shown no appetite for compromise, even as a special bipartisan committee searches for hundreds of billions in budget savings that will likely require painful sacrifices for Republicans and Democrats alike.
Even if the bill passes the House, it faces long odds in the Democratic-controlled Senate. Still, the Senate may ultimately accept the House bill and leave on a weeklong recess rather than stay in town to fight it out.
"Once the House passes a bill, the responsible course will be for the Senate to pass it," Boehner spokesman Michael Steel said.
(Additional reporting by Richard Cowan in Washington and Karen Brettell in New York; Editing by Doina Chiacu)