« back to Movies
The Hobbit: The Desolation of Smaug in HFR 3D
Release Date: Dec. 13, 2013
Genres: Action/Adventure, SciFi/Fantasy
Cast: Martin Freeman, Orlando Bloom, Cate Blanchett, Hugo Weaving, Ian McKellen, Benedict Cumberbatch, Lee Pace, Richard Armitage
Directors: Peter Jackson
Official Site: http://www.thehobbit.com/index.html
Distributor: Warner Bros.
The second in a trilogy of films adapting the enduringly popular masterpiece The Hobbit, by J.R.R. Tolkien, this film continues the adventures of the title character Bilbo Baggins as he journeys with the Wizard Gandalf and thirteen Dwarves, led by Thorin Oakenshield on an epic quest to reclaim the lost Dwarf Kingdom of Erebor.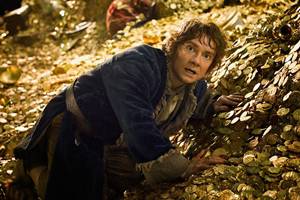 Show Times / Buy Tickets
There are no current showings for The Hobbit: The Desolation of Smaug in HFR 3D in this area.