« back to Movies
Space Chimps
Release Date: July 18, 2008
Genres: Animation, Action/Adventure, Comedy
Cast: Andy Samberg, Kenan Thompson, Seann William Scott, Omid Abtahi
Directors: Kirk Demicco, Norton Virgien
Official Site: http://www.spacechimpspower.com/
Distributor: 20th Century Fox
When a $5 billion Space Agency probe disappears into an intergalactic wormhole, the agency recruits Ham III, grandson of the first chimpanzee in space, to help retrieve the wayward craft. But Ham is a free-spirited circus performer more interested in zero gravity high jinks than living up to his illustrious heritage. The simian slacker becomes a reluctant hero and learns the true meaning of courage as he and his crewmates, the plucky Lieutenant Luna and their by-the-book commander, Titan, risk everything in an effort to save the peaceful inhabitants of a distant planet from an evil dictator.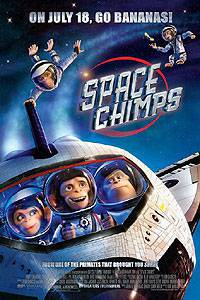 Show Times / Buy Tickets
There are no current showings for Space Chimps in this area.