« back to Movies
Opera in Cinema: Royal Opera House's "Les Troyens"
Release Date: None
Genres: Program, Musical
Cast: Anna Caterina Antonacci, Fabio Capitanucci, Eva-Maria Westbroek, Bryan Hymel
Directors: David McVicar
Distributor: Emerging Pictures
Les Troyens is opera at its most epic. The sheer scale of its story, music, passion, staging and performers make this one of the great Royal Opera House events of the decade. Berlioz's great work is one of the most fabulously rich of all operas, a tour de force of passion in music, with extraordinarily demanding roles for the principal cast. Eva-Maria Westbroek's "big, shimmering, dark-hued voice [is] ideal" as the heroine Didon, and Anna Caterina Antonacci "triumphed... her singing was lush, fervent, finely spun and noble. A lovely woman, she is a riveting actress" raves Anthony Tommasini of the New York Times.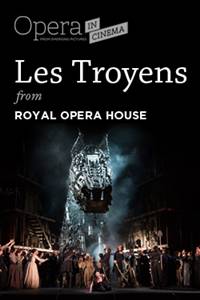 Show Times / Buy Tickets
There are no current showings for Opera in Cinema: Royal Opera House's "Les Troyens" in this area.