« back to Movies
Getaway
Release Date: Aug. 30, 2013
Genres: Action/Adventure
Cast: Ethan Hawke, Selena Gomez, Jon Voight, Paul Freeman, Bruce Payne, Rebecca Budig
Directors: Courtney Solomon
Official Site: http://www.getawaymovie.com/
Distributor: Warner Bros. Pictures
GETAWAY is a gritty, heart-pounding action thriller starring Academy Award® nominee Ethan Hawke ("Training Day," "The Purge," "Before Midnight"), actress and international music sensation Selena Gomez ("Springbreakers," "Wizards of Waverly Place"), and Academy Award® winner Jon Voight ("Coming Home," the "National Treasure" films). The film is directed by Courtney Solomon ("An American Haunting").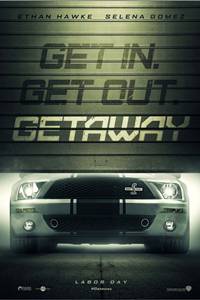 Show Times / Buy Tickets
There are no current showings for Getaway in this area.