« back to Movies
Opera in Cinema: Siegfried from Teatro alla Scala
Release Date: None
Genres: Program
Cast: Lance Ryan, Peter Bronder, Juha Uusitalo, Johannes Martin Kranzle, Dean Peterson, Anna Larsson, Nina Stemme, Rinnat Moriah
Directors: Guy Cassiers, Daniel Barenboim
Distributor: Emerging Pictures
The Ring Cycle continues with Siegfried, starring Lance Ryan as the ubermensch youth, in this new production from La Scala, Milan. The tale of gods and mortals, all set to Wagner's incomparable music, is a must-see (and must-hear!) for any true opera lover. Wagnerian specialist Nina Stemme is Brünnhilde, with Daniel Barenboim at the podium.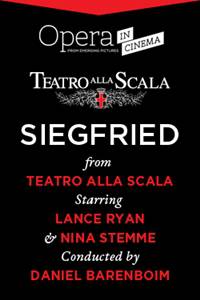 Show Times / Buy Tickets
There are no current showings for Opera in Cinema: Siegfried from Teatro alla Scala in this area.