« back to Movies
Pitch Perfect
Release Date: Oct. 5, 2012
Genres: Comedy, Musical
Cast: Anna Kendrick, Brittany Snow, Christopher Mintz-Plasse, Rebel Wilson, Anna Camp, Alexis Knapp, Adam DeVine, Freddie Stroma, Skylar Astin, Jacob Wysocki
Directors: Jason Moore
Official Site: http://www.pitchperfectmovie.com
Distributor: Universal Studios
Beca is that girl who'd rather listen to what's coming out of her headphones than what's coming out of you. Arriving at her new college, she finds herself not right for any clique but somehow is muscled into one that she never would have picked on her own: alongside mean girls, sweet girls and weird girls whose only thing in common is how good they sound when they sing together. When Beca takes this acoustic singing group out of their world of traditional arrangements and perfect harmonies into all-new mash-ups, they fight to climb their way to the top of the cutthroat world of college a cappella. This could wind up either the coolest thing they'll ever do or the most insane, and it will probably be a little of both.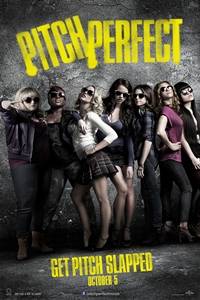 Show Times / Buy Tickets
There are no current showings for Pitch Perfect in this area.