« back to Movies
I Wish (Kiseki)
Release Date: None
Genres: Drama
Cast: Koki Maeda, Ohshirô Maeda, Ryôga Hayashi, Cara Uchida, Kanna Hashimoto, Rento Isobe, Hoshinosuke Yoshinaga, Hiroshi Abe, Yoshio Harada, Isao Hashizume
Directors: Hirokazu Koreeda
Official Site: http://www.magpictures.com/iwish/
Distributor: Magnolia Pictures
Twelve-year-old Koichi lives with his mother and retired grandparents in Kagoshima, in the southern region of Kyushu, Japan. His younger brother Ryunosuke lives with their father in Hakata, northern Kyushu. The brothers have been separated by their parents' divorce and Koichi's only wish is for his family to be reunited. When he learns that a new bullet train line will soon open linking the two towns, he starts to believe that a miracle will take place the moment these new trains first pass each other at top speed. With help from the adults around him, Koichi sets out on a journey with a group of friends, each hoping to witness a miracle that will improve their difficult lives.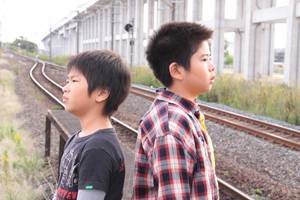 Show Times / Buy Tickets
There are no current showings for I Wish (Kiseki) in this area.