« back to Movies
Searching for Sugar Man
Release Date: None
Genres: Documentary
Cast: Stephen Segerman, Dennis Coffey, Mike Theodore, Dan DiMaggio, Jerome Ferretti, Steve Rowland, Willem Möller, Craig Bartholomew-Strydom, Ilse Assmann, Steve M. Harris
Directors: Malik Bendjelloul
Official Site: http://www.sonyclassics.com/searchingforsugarman/
Distributor: Sony Pictures Classics
SEARCHING FOR SUGAR MAN tells the true story of the greatest '70s US rock icon who never was, how he was rediscovered in a far off land and finally became the legend he always deserved to be. It is a story of hope, inspiration and the power of music.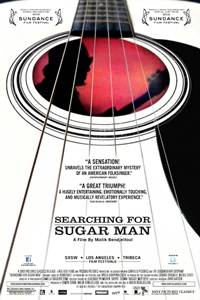 Show Times / Buy Tickets
There are no current showings for Searching for Sugar Man in this area.