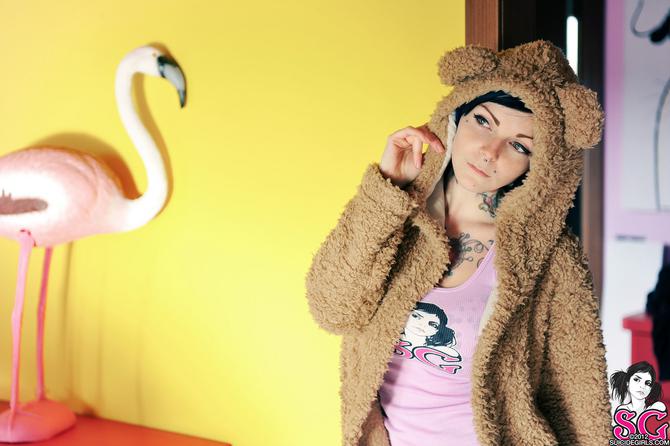 https://suicidegirls.com/girls/AnnaLee/
Vital Stats:
HEIGHT: 5'4"
CIGARETTES: NOPE
BOOZE: NOPE
DIET: VEGETARIAN
TELEVISION: I DON'T WATCH TELEVISION.
FILMS: 2001: A SPACE ODYSSEY BLADE RUNNER BLANCANIEVES I AM LOVE RUSSIAN ARK TARKOVSKY THE LIVES OF OTHERS TRON WOMEN WITHOUT MEN
BOOKS: HITCHHIKER'S GUIDE TO THE GALAXY BY DOUGLAS ADAMS LIFE: A USERS MANUAL BY GEORGES PEREC MOUNT ANALOGUE BY RENE DAUMAL SHORT STORIES BY CHEKHOV SHORT STORIES BY KATHERINE MANSFIELD THE BROTHERS KARAMAZOV BY DOSTOEVSKY THE GOLDEN NOTEBOOK BY DORIS LESSING THE LEOPARD BY GUISEPI TOMASI DI LAMPEDUSA THE MASTER AND MARGARITA BY MIKHAIL BULGAKOV THE SECOND SEX BY SIMONE DE BEAUVOIR THE WAVES BY VIRGINIA WOOLF TO THE LIGHTHOUSE BY VIRGINIA WOOLF
VIDEO GAMES: ONLY TETRIS IS REAL
MY IDEA OF A GOOD TIME: READING AT THE COFFEESHOP.
INTO: BIRDS BOOKS CATS AND DOGS CLIMBING HILLS COOKING DEBATING GARDENS LANGUAGE LEARNING LIBRARIES LICHENS, MOSSES AND FUNGI LIGHT MOTHS MOUNTAINS OPEN MINDS PLAYING THE PIANO READING RE-USING THINGS SO AS NOT TO BE WASTEFUL SILENCE SWIMMING UNDER WATER THE CHANGING SEASONS THE SEA TREES "WHOLE" FOODS
5 THINGS THAT I CAN'T LIVE WITHOUT: A BOOK A QUIET PLACE FRESH AIR HOT TEA LOVELOVELOVE
I SPEND MOST OF MY FREE TIME: IN A BOOK.
MUSIC: BLACK SABBATH BOD DYLAN DMITRI SHOSTAKOVICH, OLIVIER MESSIAEN, J.S. BACH HAROLD BUDD KATE BUSH SLEEP