All is not well at DTE Energy Music Theater. Rob Zombie and Marilyn Manson are on their "Twins of Evil Tour" Last night towards the end of his set Marilyn Manson told the crowd "I'm going to kick his [Rob Zombie] ass" Well, that's not very nice. Rob Zombie then did the most professional thing he could do and blasted Manson during most of the set calling Marilyn a Diva but using more profanity. Someone should wash Rob's mouth out.
Where did the love go? Marilyn Manson tweeted "Sorry to Chicago for not getting to play "Beautiful People." You can sing it in between Zombie songs, his band has already played it" According to a post on Rob Zombie's Facebook page, Thursday night in Chicago Manson's set went long. Instead of taking the hit on his set, Zombie cut Manson's set by one song. This made Marilyn MAD!!! The Co-Headliners of this tour get the same exact amount of time and Manson ran over his. Sounds fair right?
While I am shocked at these events, I am not really that shocked. I figured these guys were buds given the fact they rose to fame around the same time and played the same style of music. This can't be the first time these two bands have toured together. However both musicians have a long history of being difficult backstage. I am not surprised by Zombie's dick move of cutting Manson's last song off. (It was going to be The Beautiful People). Marilyn Manson acting like a spoiled pop diva does not shock me. Here's what should have happened. Some one should have told Manson he was going long. Manson then cuts a song out and ends with his monster hit. Then goes backstage and says, "I was a bit long but I solved it" That didn't happen. Now we have the start to a Metal feud that hopefully will present us with some hilarious High School level tweets and posts.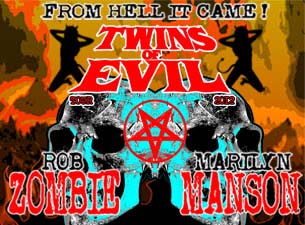 Credit - Blabbermouth.net and Mlive.com